Spotlight on Photos and Resumes
Does Your Photo Click or Make Them Shudder?
February 13, 2006
By Gerald Raymond

"Who am I anyway? Am I my résumé? That is a picture of a person I don't know."

Those well-known lines from A Chorus Line may have become a cliché over time, but what actor hasn't experienced the painful reality of submitting a picture and résumé and not knowing how someone would react? We showed four professionals in the industry -- three casting directors and an agent -- pictures and résumés that you submitted to Back Stage and asked them to give us their quick first impressions.


On this occasion we talked to Erica Jensen, Stacy Baer, Todd Thaler, and Arnold Mungioli. Jensen is a casting associate at James Calleri Casting, which casts films, television, and theatre; she currently works on the ABC series Hope & Faith. Baer is an agent with Leading Artists Agency, a boutique-size firm, and she represents mostly theatre-trained actors for film, television, and theatre. Thaler, of Todd Thaler Casting, casts film and television, working mostly on independent, low-budget projects based in New York; he recently completed work on a studio production, Perfect Stranger, starring Bruce Willis and Halle Berry. Mungioli has been in the business for 27 years and has worked as the head of casting for both Livent and Disney Theatrical Productions. He has run his own company, Mungioli Theatricals, for the past five years and casts primarily theatre but also television and film. His current projects include casting for the Actors Theatre of Louisville, a new (as yet untitled) Richard Maltby, Jr. musical, an avant-garde project for P.S. 122 titled Hell, and the ongoing show Jewtopia, which is shortly going into its fourth company.

Here's Looking at You, Kid

Here's what our panel has to say about your individual headshots and résumés. Bear in mind, these are quick impressions and purely subjective. You might find diametrically opposed responses to the same photo. As Thaler points out, "One man's ceiling is another man's floor" when it comes to looking at actors' photos. "Any headshot you pick or someone recommends," he adds, "means there's a 50-50 chance that it will be disliked." Mungioli explains, "We're all hired for our individual taste. That's why there are more than one of us that a producer can choose from."


Wendy Lane Bailey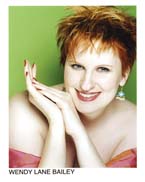 Jensen: This is an example of color to the extreme. There's something comical about that green background. She has that wonderful red hair, though, and I understand the choice of color. But it looks like a print ad. And the dress is too low-cut.

Baer: You know what, if she's a wacky broad, then it's not a bad picture. Well, she's a cabaret singer and she wouldn't be coming into my office. She's a redhead, and I don't want to take away from that, but a black-and-white version of this may seem less cabaret and less over-the-top.

Thaler: I think it's a little overproduced -- green background, blue earring, and that pink thing off the shoulders and a lot of skin. Maybe if it was in black and white, I might think completely differently.

Mungioli: The hands, though they are lovely -- she may very well be a hand model -- do not work for me in a headshot. The earrings are fabulous. This headshot makes me want to find out where she got them and buy a pair as a gift for someone, but it doesn't make me want to hire her as an actress.

This is a singer's résumé and that's totally fine, as long as she's putting herself out there as what she truly is and she gets work in what she wants to do.


Jenna Esposito





Jensen: I like this. It's clear and it doesn't look overdone. In color shots you can always tell when someone is wearing way too much makeup, but this is very nice. The background's not distracting.

She has good credits and she's structured this nicely. I appreciate that she has her children's-theatre credits and cabaret credits separately and not mixed up with the others.

Baer: The color looks okay, maybe a little over-made-up, but that's all right. The background is not overwhelming. She has a lot on [her résumé]. She could take out almost all the cabaret and the children's theatre.

Thaler: I'm old school in that I still like black and white, but I don't discount a picture that's done in color at all. I like the natural background. I actually prefer repose to the smile, but in this one I'm curious to know something else about her from this picture.

Mungioli: The biggest mistake of this picture for me is not that it's in color, but that she's standing next to some prison gate, or has her hand in some telephone wire box that's extremely distracting. I'm very interested in the spiral wires and not at all interested in the face.

[On her résumé] she avoids the height and weight issue altogether, which in many cases will not do her a disservice, but in many cases it will. So she separates out children's theatre and cabaret, which makes me think that those are things she does a lot of and wants to do a lot of, which is fine. I see a lack of consistency in the presentation.


Sri Gordon





Jensen: Something about the way this picture looks indicates to me that she has some features that might serve well in a color shot. Her eyes, for example, are very light and pretty. But the thing is, the black-and-white shot has told me that, so there's something really good about this.

Baer: I think that's a great shot. A lot of things can come off the résumé -- a lot of this is school. It looks like she's done some Off-Broadway, so she should either have a separate category for school or take out half of it.

Thaler: Either she has the most exquisite complexion or the picture has been retouched. Or she's got too much foundation and makeup and completely blotted out the slightest imperfections in her face. A little freckle or mole or a pockmark or a little scar -- those are the things that set you apart from everyone else. If the photographer or the retoucher takes all of that away, then I feel like I've been cheated out of something.

Mungioli: I like the definition of this picture, and how she comes on so boldly. Her eyes may in fact be uneven, which is fine if it looks like her, but if that's a trick of the lighting, then it's not serving her well. But she's a beautiful girl and I think that comes across quite nicely here. My eye goes to her head in her headshot and that's the goal, so this is terrific.

She does have the four staples on her résumé, but the bottom two didn't hit the page, so it could come easily detached. In terms of format, it's very easy to read and to absorb what she's done.


Mark P. Jackson





Jensen: It's an odd picture. The pose is strange; it makes him look a little bit awkward. His expression is blank and I'm not getting a whole lot from that. His résumé is easy to read.

Baer: If he's going for intense redhead, it's not a bad picture at all. The film credits on the résumé -- it's nebulous as to what a featured role is. If it's extra work, take it off. If it was an actual role, just say "featured" or "supporting." You don't have to mention the role that you played unless it's a well-known film. He's starting out, so this is good.

Thaler: He's got a great, interesting look. There's something enigmatic, something that makes me want to put it in my "to meet" folder. Color pictures have been a big boon for redheads because you can never tell a redhead in a black-and-white shot. I like that his résumé's got room and air. Always leave some room to add something.

Mungioli: Oh, my God, no. I don't need to see the big empty studio behind you. I don't need to see your knee and your arm -- it's a headshot. He's in a totally defensive position, with his arm covering his knee as a barrier between me and him. I understand someone with hair that red and eyes that blue wanting to use a color shot, but the pose has taken away everything. If he went with the headshot only, there's a handsome guy. I can get a sense of his body type from the statistics and the fact that he has athletics listed in his special skills, so he's wasted all of his picture space because the information is already on the résumé.


Vincent Victoria





Jensen: This is really in-your-face and the color is a little crazy and the quality is not great.

Baer: This is a little overdone, a little too color-saturated. The résumé is fine, but there are a couple of things to take off, like the dinner theatre credits.

Thaler: It's a bit intense, a little too much shine, and it doesn't feel as professionally produced as it could be. It's just hard to get a sense of who the guy is. I'm sure there's so much more to him than what I see in this picture.

Mungioli: This is very bold; the color perhaps is a bit too much. I don't know if he's so vibrant when he actually walks in the room. It does come on very strong, but the face is strong and appealing and I actually like it. The thumb coming all the way around to connect with the shoulder -- that does bother me.

In his theatre credits, my eye goes right to the space next to How Anansi Came to America; he's got to figure out how to list that better.


Mia Anderson






Jensen: I don't really like the way the picture is cropped. Her résumé is structured well, easy to read, and highlights her strength, which is theatre.

Baer: It's a good headshot if what she's interested in doing is edgy work, but it cuts off a bit of her head. There's too much on the résumé and very little here that I can sell.

Thaler: I would say that it feels soulful. It seems out of doors and uses natural light. I like it. I've gotten used to the fact that there's no longer a standard, so I'm just as likely to like a picture that's horizontal as vertical. The résumé is readable: You should lead with your strong suit, so she has theatre on top.

Mungioli: Well, she looks unhappy. She has a beautiful face, but for some reason this picture de-emphasizes her eyes. She has beautiful hair; I don't understand why she's flattened against the wall.

The résumé is done in standard format, which is terrific. Under "Cabaret," where she lists this show with herself as director, producer, performer, and all the cities it's been done in, visually [it] creates a large white space, giving it too much focus in a way I think she doesn't want it to have. The same thing under "Education" -- the justification has to make sense and make it easier and not harder to read.


Corie Berkemeyer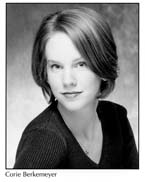 Jensen: My personal taste is that there's something a little flat about it. I don't know that it would jump out at me if I was going through the mail, but this is a perfectly presentable shot. Her résumé is readable and structured well, but it should be cut down to the size of her photo and stapled, not clipped.

Baer: The background is somewhat corporate-looking but it's not a bad picture, just a bit old-fashioned. The résumé is actually pretty good. I'd put her film and television credits first because she was a guest star on Dawson's Creek, which is a pretty good credit.

Thaler: It feels a little bit generic, not [as] distinct or unique as it could be. She seems to be a very cute girl. The résumé should definitely be stapled. I don't think it should be the responsibility of the person you send it to, especially if the front of your photograph doesn't have any contact information.

Mungioli: The picture is okay. She's in an odd position and her shoulders are doing kind of a funny thing that's a little bit off-putting. And I wonder if, when she walks in a room, her hair will be in exactly this style or if this was styled for the picture, which is something that actors often do.

I don't know what "guest Wendy Wasserstein" means next to her Uncommon Women credit. Was she a guest who came and saw the show, or was she the director? We already know she wrote it. I don't know the program at Meredith College, so I'd like to see more about her training. I don't need every class she did in four years, but it feels sketchy.


Joe Caruso





Jensen: This is totally fine, but like everything in the world, even headshots become dated. I do think actors should be concerned about that. This is not really eye-catching. Now, if I'm looking specifically for his type, I would certainly turn it over and investigate further, but otherwise I might not.

He's got some really interesting skills listed: pantomime, commedia dell'arte, vaudeville -- that's specific. If I was doing a project that needed it, that would be fantastic.

Baer: It's just an old-fashioned style, but if it looks like him, that's fine. I don't know whether Models on the Move is a temp agency or management, but a proper letterhead will be better than this little print at the top. "Principal" and "Featured" under television credits is nebulous to me. If you're an extra, unless you have nothing else on your résumé, don't put it on.

Thaler: I'm always a little concerned with the sports jacket -- it has a formality that I think doesn't do actors a tremendous service. But I like that he's got an interesting look.

Mungioli: Well, the headshot is okay if it looks like him. What is very noticeable to me is that he's not smiling. This is an introduction and it's not as warm as I would guess he would be capable of being.

"Age range" is a mistake. You're not the age you are, you're the age you play, and we should be able to tell from your picture and résumé. "Voice: character" is superfluous and not useful. "Stage: List on Request" is confusing to me. Since we have a fair amount of summer theatre and dinner theatre, what would the additional credits be?


Saida Cooper





Jensen: It's perfectly acceptable. Maybe a few areas around her face could use touching up.

Baer: I get a specific feeling about her personality looking at this picture, but I don't know if it's really this person or not. She can take out some of her college credits. She's the kind of person who should send her picture to Law & Order and see if there's a small role for her.

Thaler: I'm a big fan of repose in a headshot, where there's a neutral, almost expressionless look. This has a slightest bit of a smirk or some kind of attitude, which I think is limiting. Sometimes it's the photographer's fault. I prefer that the shutter be snapped before you react to something.

Mungioli: Saida doesn't look happy. She has great hair, but it looks a little bit in her face on the right-hand side of the picture. The large portion of unbuttonedness in what is a headshot feels unnecessarily suggestive.

Get the address off the résumé immediately. It feels like it has a lot of space in the theatre credits, but ultimately it's readable and that's my main concern, so I have no problem with this.


Juliette Fairley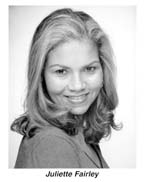 Jensen: I don't love this shot; it looks very dated. Her hair is not falling right in certain places. I would say this needs a do-over. But her résumé is fine.

Baer: I have no idea who she is from this picture. She needs a new headshot; it's not flattering. Her résumé is fine, but she can take out the commercials.

Thaler: I'm not a big fan of this picture because it has a little too much behavior. It's very studio, looking over the one shoulder. It feels like what the photographer does at high school graduation.

Mungioli: This picture is not showing her off in a particularly positive way. She has her shoulder at me and it feels, as the expression goes, a cold shoulder. It's a nice face, but the picture puts her hair at a strange angle because her neck is at a strange angle. For an actor, it's a great thing to have long hair, but in a picture it has to look less going in every direction.

The [résumé] format is right, but her left-justified columns are all over the place, which makes my eyes go back and forth. In "Theatre," it's confusing, because she has theatres listed, but in the last credit she says San Antonio, Texas, but doesn't tell us where it was done. In "Training," she puts the Columbia University graduate program at the very bottom of the list. I'm guessing that means she never graduated or only took a course there. Things like this tend to tip off more about what a person hasn't done than what they have done.


Jaclyn Friedlander






Jensen: I think this is a really decent black-and-white shot -- it's active and it's got variations. If I were to be really picky about it, I might suggest lightening the area behind her head so you can tell where the hair ends.

If you're going to put another picture of yourself on the résumé, you might want to consider a picture wearing something different or showing a different kind of look. It doesn't bother me personally. Sometimes it can even help me.

Baer: It's a fine picture and the quality is good. [The other photo] on the résumé might be a better picture for her. The résumé is fine, but National Choir Festival is something that she can take off.

Thaler: As a rule, I'm not a fan of the smile, but, funnily, I think she is very much like this picture, and I like that it's out of doors. The photo on the résumé -- it's the solution to the composite picture, which I think most of us hate. But how do you make the decision to put one image on the back and the other on the front? I think you're generally better off putting out one thing.

Mungioli: There's a lot of scenery, which I don't like. Here we have an 8-by-10 piece of paper, which is 80 square inches to work from, and the size of the actual headshot is 4-by-2, 8 square inches. That tells me something about what you think of your face.

The sizes of the theatres listed are all over the place. I understand she was trying to fit it all in, but you have to find another way to do it. She also needs to rethink the "Training" listing -- it's not clear or easy to absorb.


Edward Furs





Jensen: I like this; it's very straightforward. He looks like he has something going on, and I like the composition. The type is really small -- he has a lot of credits. He may want to consider taking the voiceover section off and have a couple of résumés for different things. I don't really understand Pepsico Summerfare -- it needs to be clear or needs to be taken off.

Baer: That's a perfectly nice picture for him. His résumé is a little bulky. I don't think he needs the voiceovers. He needs to take off some other stuff that's old as well.

Thaler: I remember him from when he did extra work, and he's always had that mustache. I wonder what he'd look like without the mustache. I would imagine that even if you were more than willing to shave it off, you'd probably be discounted because you sent a photo with a mustache. If he prefers himself with a mustache, then at least for photo day he might consider taking some shots without it and growing it back immediately thereafter. But it's a good shot and I quite like it.

Mungioli: I know him and that looks like him, which is a big plus. A very crowded résumé. I would like slightly larger print. For consistency, if we have CBS TV listed, we'll need to have the film company on the other credits and not just the directors. Voiceovers to me could be taken out or listed as "upon request," and that would give me more room to make this more readable. With the number of roles he's played at this point, I don't need him to list every class he's taken. Voice and dialect, acting and soap acting can be categorized together.


Florence Galperin





Jensen: This is really light, kind of washed out. Her eyes look bright and engaged and she has a nice smile. Her résumé is great; it's nice and big. But she may want to narrow down the credits in some areas.

Baer: If the picture could be a little sharper, it would be nice. She's obviously been working for a while and she can take some things off the résumé. Stand-in work is not necessary.

Thaler: It looks a little fuzzy. I don't know if it's been retouched to reduce the character in the face, and I generally don't think that's a plus. She lists stand-in work on her film credits and that's basically working as a crew person more than as an actor.

Mungioli: I like that she's smiling and that she looks lovely. I'm getting a bit more of the scarf than her face. If you put your hand over the bottom three inches of this headshot, it's much lovelier and my focus goes to her face.

I would take off "age range." I get that she's an older woman, and you are the age you play. It jumps out at me that Henry V is indented and I don't know why, but everything else lines up pretty nicely. She indicates that Sophie's Dresses is a musical, which makes sense in that it's not a known musical name.


Charlotte Geijer





Jensen: You can see the reflection in her eyes. Is that the photographer? At first I was "I really like this," but now I'm starting to see some areas where the details of her face may have been airbrushed a little too much. I like to see people's personalities come out in their face. You don't want to look like a mannequin.

She has her training on the top, which indicates to me that she's a young actor starting out. She does have some theatre and film credits, so my advice would be to put the training on the bottom.

Baer: That's a great headshot. It's good that she's mentioned she's a commercial model. It will make up for the fact that she hasn't got much on her résumé. It's fine that she starts with the training because that counters the fact that she was a model.

Thaler: I would hope she's as attractive in real life as this picture depicts her to be. There's always the hazard that when you come in, the person looks at you and then at the picture and looks at you and then back at the picture. I may call Charlotte and say, "Are you in Manhattan and can you be here in 20 minutes?" If she needs two hours to look like this, then her answer would have to be no. But if she just threw a sweatshirt on and jumped on the subway and could look this good, God bless her!

Mungioli: It shows I'm out here to play the pretty thing. That's okay if that's what I'm casting, but then don't bother me if you're not taken seriously for other types of acting roles. Early on in my teaching, I would tell people: If training is what you have, then put that first. But I think the industry has changed and the truth of the matter is, if your credits are weak and your training is strong, we will see that. So I do think it's necessary for your credits to be first. It's not okay to say "lead" for plays like Miss Julie or In the Boom Boom Room, because these are well-known titles, and I'm interested in knowing the roles that you played. Commercial model is useful, I think, because it confirms the look you see in the picture.


Andrew Goffman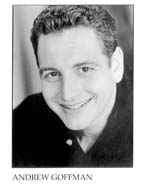 Jensen: This is nice. He's got some personality around the eyes and something about his face gives me the impression that he's got a nice sense of humor. It's a little bit light maybe -- we could do with more details. Overall, something about it speaks to me. And when you look at his résumé, yes, he's a standup comedian.

Baer: The smile is a little forced, but it's fine. This is a perfectly fine résumé, but I think he can take out New York News, which is an old television show that didn't run very long. He's a comedian; that's interesting. Special skills, yes, you should put down anything specific that you're really good at, because it can be really helpful.

Thaler: It feels a bit generic, and the smile -- it's almost a little self-conscious. It seems almost like it's hurting him to hold the smile. He's a standup comedian, so, if anything, you'd want that smile to be more genuine. It may have been sincere, but to me it didn't come off as one.

Mungioli: The picture is a little bit yellowed and the résumé should be cut to size. I'm glad that he's smiling, but it looks an odd position or angle. He emphasizes that he has standup comedy and that's very useful because there are many roles where creative team members will say that it's a plus or that's the sensibility that they want. And he's done a good amount of it, and that's what makes the difference. "Theatre": In the first credit he says who directed him but not where it was done. In the second credit he has where it was done but not who directed it -- that can be confusing.


See more headshots and resumes in Part II of our "Spotlight" series, coming to BackStage.com on Wednesday.